Cooking Lessons and Dinner at Narlis Farm




Overnight Stay
Not provided

Active Months
Jan, Feb, Mar, Apr, May, Jun, Jul, Aug, Sep, Oct, Nov, Dec







Description
As a young newlywed couple in 1953, Giannis and Flora had only their love for each other and for Mother Earth as equipment for their future life. With water lacking on their farm, they started digging a well, hoping to find some but it became impossible to continue after 15 meters of depth. All their efforts were in vain. They had only managed to dig what is commonly known in Greece as a 'dry well' (xeropigado). Having no other choice, they slowly refilled it; yet their dream of finding water and their vision for a verdant garden all year round was not lost. The rest of the story you will learn on-site while being treated to a glass of fine organic biological wine, accompanied by a dish of homegrown fresh tomatoes and cheese!
Narlis Farm is a 100% traditional Sifnos farm, filled with vegetables, herbs, trees, and fruit of old varieties that have survived up to our time, yielding their unique flavors in traditionally cooked dishes.
Come visit us on the island of Sifnos, a hospitable, premier culinary destination.
You will enjoy a memorable vacation.
*Narlis Farm does not provide tours of its facilities, but only activities that are mentioned in the section below "Other from the producer".
ACTIVITY DESCRIPTION
At our farm, you will have the opportunity to discover the secrets of Sifnos' traditional diet in a friendly conversation as you cook along with us and enjoy our hospitality. The farmland is located in the center of the island, between Apollonia and Kato Petali.
We drink coffee and we will discuss our day's menu on the spot, and prepare it ourselves as part of our daily activities.
We will take a pleasant walk through the garden where you can gather products needed for that day's meal. With freshly picked vegetables chosen by you, we will create beautiful, healthy dishes that taste fantastic!
Upon returning we can begin to prepare dinner: two salad dishes, two hors d'œuvres and two main courses. A choice of either our local dry white or sweet sun-dried red wine may accompany your dinner table.
As for dessert, you can choose from a variety of fruits in season: watermelon, melon, pears, apricots, or damson plums. The fruit is distinguished for being cultivated using our own organic biological seeds.
Other from the Producer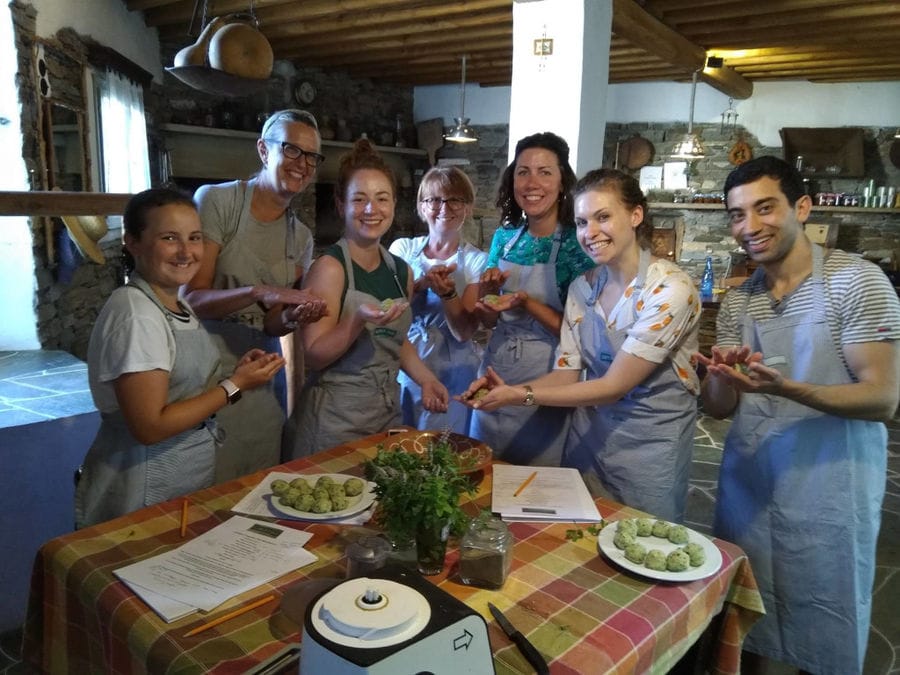 Products
Vegetables, fruits
Tour Languages
Greek, English