Overnight Stay
Not provided

Active Months
Jan, Feb, Mar, Apr, May, Jun, Jul, Aug, Sep, Oct, Nov, Dec







Description
We are a newly-founded company, in Chania, guided by our passion for organic extra virgin olive oil and a desire to wed the centuries-old tradition of making olive oil with 21st-century technology in order to create a premium product.
Founded in 2014 by a young entrepreneur, Eftychios Androulakis, Pamako is the brainchild of a passionate young person who, with the help of his family and his partner, Dorothea Ritter, decided to continue a generations-old family tradition while combining it with cutting-edge technology to produce olive oil that is exceptional in both taste and quality.
Preserving century-old methods of sustainable organic cultivation and processing, we combine them with the newest technology in order to get the best out of each olive in creating premium extra virgin olive oil. Youthful passion motivates us and the experience of the older generation guides us on the challenging and painstaking task of getting the best from nature's bounty.
Pamako is officially one of the few olive oils worldwide to have on its label a health claim for high phenol content approved under EU regulation 432/2012.
Pamako is the translation of the Linear B syllabic script ideograms meaning 'medicine'.
TOUR AND TASTING
The visit to the standardization facilities, located near the city center, includes:
A guided tour and analysis of the process of standardizing and storing extra virgin olive oil.
A presentation of factors that make the olive oil stand out from the rest and the different existing categories of olive oil.
A tasting session, comparing olive oils with this year's Pamako's olive oils.
A discussion about the beneficial properties of high phenolic content olive oil and the EU 432/2012regulations.
Other from the Producer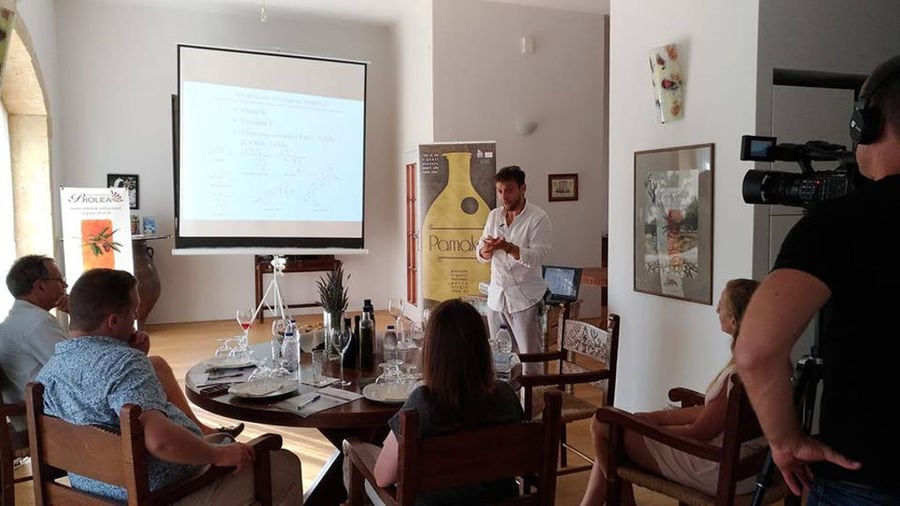 Tour Languages
Greek, English