Aegina is an island placed between Attica and the Peloponnese.
In ancient times, it was the first city of Greece to mint its own silver coinage, with the image of a turtle (7th century BCE). Its high point was in the 6th century BCE when it developed major commercial and naval activity.
Following the victory of the 1821 Greek revolution against the Ottomans, Aegina was temporarily designated the capital of Greece; and, fittingly, the first coinage of the newly-formed Greek state was minted there in 1829.
Numerous neoclassical buildings of that period are found in Aegina town.
Aegina draws many visitors due to tis close proximity to Athens, resulting in tourism becoming the main economic activity of the locals during recent decades, while it is also a sailing destination and way-point. Also important to the economy is the role of religious tourism, thanks to the Cathedral of Saint Nectarios. Important also is the role of archeological tourism, mainly because of the Temple of Aphaia, and of Palaiochora, a region scattered with wayside chapels and ruins of the Byzantine town.
It is said that the Temple of Aphaia, the Parthenon and the Temple of Poseidon at Sounio are an apparent isosceles triangle—the triangle of antiquity which the ancient Greeks took care to maintain in regards to the architecture and dynamics of a temple. The Temple of Aphaia was built between 500 and 490 BCE on the site of a previous temple, which was severely damaged in a fire around 510 BCE. The people of Aegina decided to tear it down, keeping, however, the gate and the great altar and rebuilding a new temple graced by the sculptures of the "Aegina School". The new temple assumed its final form in 500 BCE and is an outstanding example of ancient architecture, serving as a model for constructing the Parthenon.
Gastronomy
Aegina is renowned for its cultivation of pistachios which, due to their exceptional quality, dominates the agricultural activity on the island. The pistachios are among the special Greek products with a Protected Designation of Origin (PDO) and are an excellent superfood. Today, Aegina cultivates roughly 200,000 trees with an average annual yield of roughly 1,300 tons.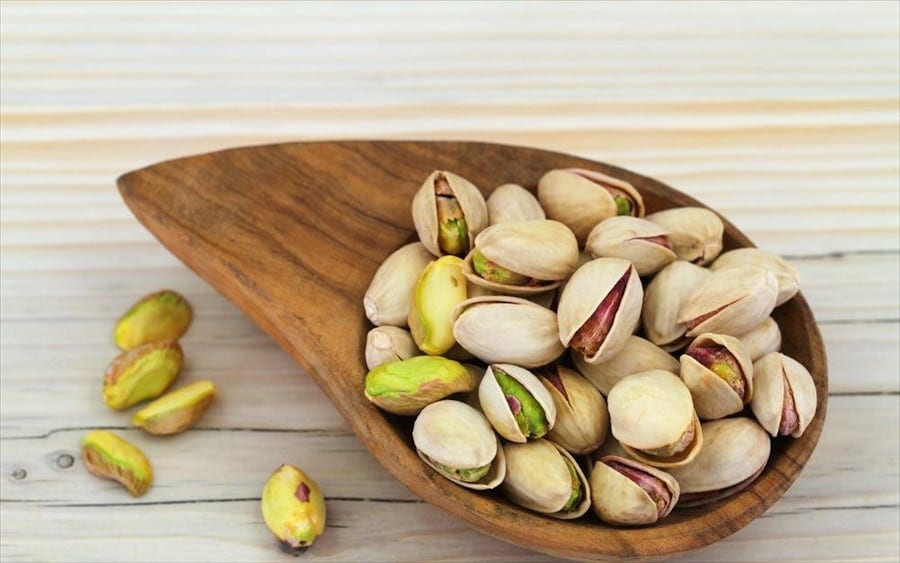 Let's not overlook the pistachio festival that takes place every year in September and lasts for four days. Aegina's pistachios are the best and tastiest in the Eastern Mediterranean. Aside from the salted or unsalted baked pistachios that accompany drinks and beverages, this delicious nut participates in many sorts of delicacies such as pasteli, liqueurs, spoon sweet, and so on.
In terms of Aegina's cuisine, the cosmopolitan, but not overly commercialized unique character of the island offers a plethora of specialties, mainly fresh fish, pasta with sea-urchins, octopus, fava bean purée, chickpeas, string beans, salads from the gardens of owners of sought-after tavernas by the sea, as well as plenty of gourmet dishes.
Photo: ekirikas.com