From November 7 to December 6, 2022.
On the occasion of the 50th anniversary of the establishment of diplomatic relations between Greece and China and with the aim of strengthening the cooperation of the "Greece-China Year of Culture and Tourism", the exhibition "Gastronomy in Art" will be held at the premises of the Hellenic Cultural Foundation.

The opening of the "China-Greece Young Artists Exchange Exhibition", which is co-organized by the Hellenic Cultural Foundation, the Chinese Cultural Center in Athens and the China-Greece Investors Association, will take place on November 7, 2022, while the duration of the exhibition will be from November 7 to December 6, 2022, at the headquarters of the Hellenic Cultural Foundation, specifically at the Bodosaki house.

The aim of the exhibition is to create a high-quality technical exchange platform, which allows people from the two countries, especially young artists, to communicate their work creation ideas in the exhibition, experience different forms of art and try to contribute to cultural exchanges and cooperation between young artists from the two countries.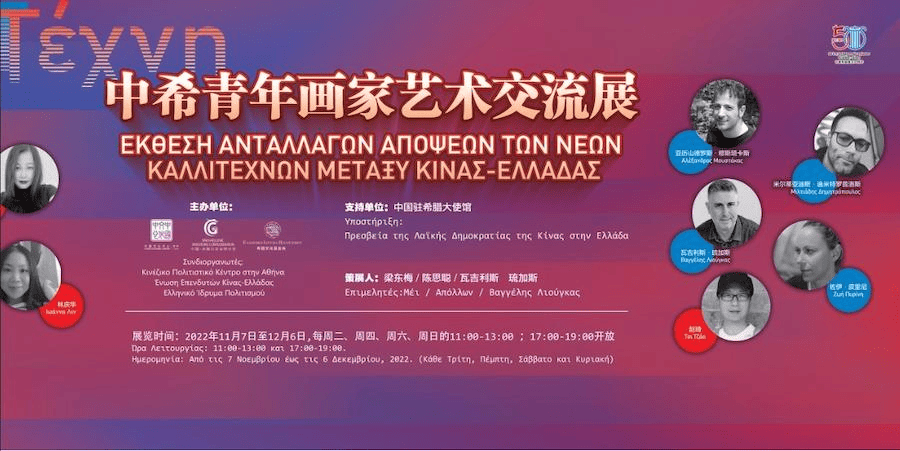 A total of 9 outstanding young artists from China and Greece will exhibit 34 of their works. The works have been selected to represent their creative identity and artistic perceptions. The 9 new guest artists in this exhibition are already renowned in their respective fields of art. They skillfully use the language of art to interpret the concept of the "Reconciliation between God and Humanity" theory of the ancient Chinese sages and simultaneously answer the quests of the ancient Greek philosophers.

In the works of the Chinese artists exhibited in this exhibition, there is a strong element of inspiration from the meeting of ancient Chinese cultures with Greek cultures after the artists' stay in Greece. The invited Greek artists skillfully combine geometricity with expressive mediums such as ancient Greek traditional painting and sculpture, while the rounded lines of the abstract sculptures are inspired by the heritage of ancient Greek statues with the coexistence of eastern elements.
Free Entrance
For more information: 21 0677 6540.
Painting by Pavlos Samios.