March 2023 Newsletter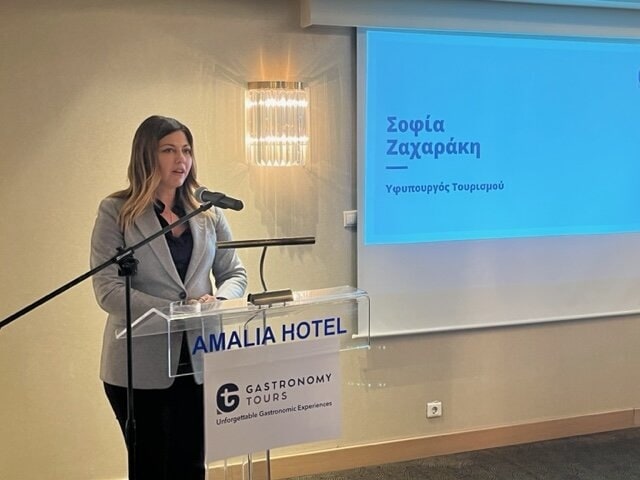 Gastronomy Tours Editorial
"Gastronomy Tours," presented its new website and mobile application on February 20th during a special event in Athens. The event was organized under the auspices of the Ministry of Tourism and attracted government officials, municipality representatives, tourism and gastronomy journalists, national and international media, regional tourism representatives, and the business and finance community.
Deputy Minister of Tourism, Mrs. Sofia Zacharaki,, opened the event by highlighting the National strategy for the development of both thematic and local tourism, a strategy that is being implemented with consistency and has already shown tangible results. She also discussed the Ministry's attempts and promote visitable production locations, including wineries, olive mills, breweries, and dairies.
President of the Greek National Tourism Organization (GNTO), Ms. Angela Gerekou, spoke about the persistent efforts of GNTO both centrally and in its offices abroad to transform the national strategy into actions with measurable results, as well as the effort required by the state to persuade producers to highlight their premises as part of the local culture.
Seasoned journalist and author Elias Mamalakis discussed the significance of local products in conjunction with the promotion of the cultural heritage of each location, which is frequently reflected in local religious festivals and local product festivals that are so beautifully presented in Gastronomy Tours.
Gastronomy Tours co-founder, Alexandros Megapanos, presented his vision and work: "This platform has a particular value for our country since it functions as a unique promotional tool to a global audience that is interested in getting to know the destination they are visiting through authentic experiences and the people who create them,"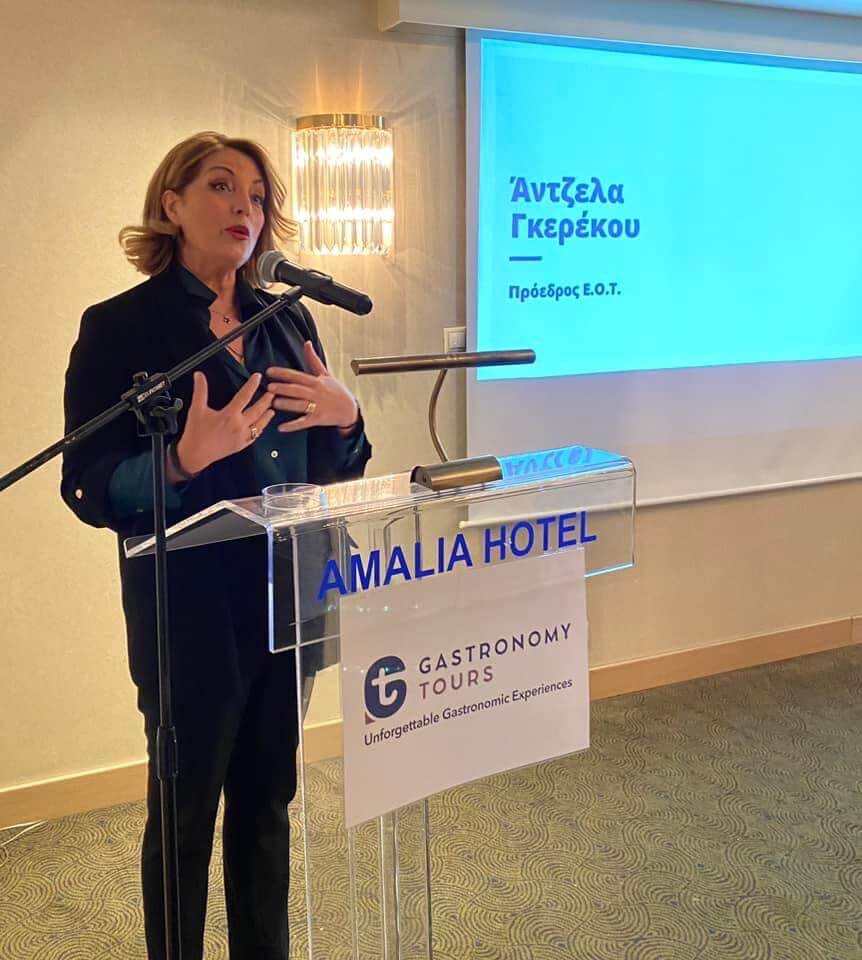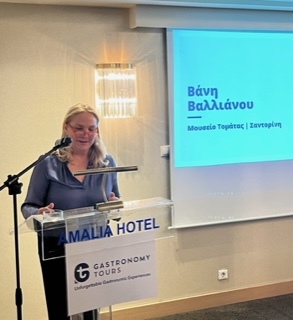 The program continued with brief presentations from members of the Gastronomy Tours community who spoke about their work and emphasized the contribution of Gastronomy Tours to enhance their exposure to audiences interested in gastronomic Tourism.
The Gastronomy tours community members were:
Avgotaracho Trikalinos, as a producer, represented by Ms. Lila Kourti,
Tomato Industrial Museum Nomikos, as a Museum of Gastronomic Products, represented by Ms. Vani Valianou,
Margowineroutes, as a travel agent, represented by Ms. Ourania Margomenou,
Two minutes Angie. com as a Gastronomic experience provider represented by Ms. Angelina Kalogeropoulou.
We thank them all for highlighting the value of Gastronomy Tours as a new tool for gastronomic tourism.
The event concluded with a wonderful "kerasma" tasting from Gastronomy tours community producers. To further the gastronomic experience, all guests received a Gastronomy Tours tote bag filled with Greek delicacies offered by the producers mentioned below that supported the event, while guests had the opportunity to meet the producers, who presented their products, and their travel experiences.
Axion Esti – Organic beekeeping
Ben Olive Mill – Olive mill-olive tours
Ktima Spiropoulos, winery,
Noctua microbrewery.
Trikalinos – Fish roe
Stratis Farm – Donkey milk dairy
Gastronomy Tours Community
The Gastronomy Tours community is growing, from Olive Oil Producers to Wineries and Beekeepers from different areas in Greece.
Check out "arrivals" from over the past months that participate in an ecosystem of more than 300 producers receiving visitors to their premises and promoting the gastronomical culture of the country.
Take a virtual tour to get to know them!